9 Tools or WordPress Plugins Every Affiliate Needs!
Not a day goes by that I don't get at least one email, asking my opinion on the Best Tools or Best WordPress Plugin for Affiliate Marketing! The truth is, the best WordPress Plugin for your affiliate site and mine may differ completely, depending on our target visitors and how we want them to interact with our website and our content.
That said – there are 8-10 tools and plugins I would not want to live without! Since using these, life has become much easier and building an affiliate site, much quicker! I have these loaded in a skeleton folder in my Hostgator account and they are preinstalled to the file directory on every new site install.
And yes.. unfortunately, some of them are commercial tools, like the Best WordPress Amazon Plugin!
9 Tools or Plugins Every Affiliate Needs
I would love to say these are listed in no specific order, but if you are new to affiliate building and wondering which are best to get started with, work your way from the top of the list down!
1 – Googles' Own Keyword Tools
100% Free and ready for anyone to get started with and understand more about what their visitors, or prospective visitors, may want. Bookmark them, learn how to use them, whatever you want to do!
These will be your best friends for many years!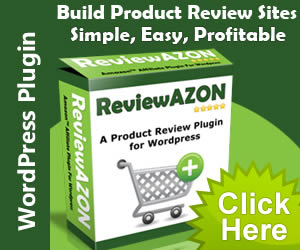 By Far – the BEST affiliate plugin I have bought in several years of using WordPress! This WordPress Amazon Plugin it All! Does everyone remember how easy you could build a site with BANS? ReviewAzon takes it a step farther… allowing you to build a complete site, full of content, listings, Reviews, Video and more  for the Amazon Associate program.
I have been using ReviewAzon for almost 6 months now and I have several "Out of the Box" sites that earn very well, with less than 8 hours of invested time!
Another AWESOME benefit of having ReviewAzon – if you have phpBay or phpOStock, you can automatically (yes, automatically) include eBay and Overstock listings right within your review posts as a primary function of the plugin! This thing rocks!
Cost: $79, and you can build as many sites as you want! Read More about ReviewAzon
If you want to learn what its all about – the N1Way Guide will show you! Before you even begin reading chapter 1, I suggest everyone go right to the LAST chapter, "Treat it Like a Business", and you will immediately know if you even WANT to build your own website business and develop passive income from your efforts.
Cost: $35, and one of the best investments you will make in yourself!
I love Google Analytics as much as the next guy – but sometimes, you just want a snapshot of your daily efforts without weeding your way through the more cumbersome Analytics plugins.
WordPress.com stats is a free analytic plugin and uses the same API key as Askimet, and you will have a plethora of site statistics on your dashboard!
Cost: Free!
With rotators, click tracking and the ability to setup an unlimited number of ad zones (Sidebar, Banner, Text links, even full posts) OIOPublisher takes the cake for ease of use and wide flexibility! As simple as it sounds… Plug it in and Go!
At the end of the day – you will KNOW which of your banners or ads are performing BEST in the same positions, so you can increase the frequency the highest performers are seen by visitors!
Cost: $47 for Unlimited Installations on your own Websites!
This is another one of those Gems that you will wonder how long you lived without! It moves the WordPress admin menu from the left side of your screen, to the top. Instead of all those annoying up and down arrows, its a simple horizontal hover menu system, that works WHEN and HOW you expect!
Cost: Free!
I have been using Fast Blog Finder since early 2008 – and still use it almost daily today! You can download and use the free version which limits the number of results you see, or spend the one time $49 bucks and get the full version which returns a much more thorough list of sites related to yours.
In a nutshell – you tell FBF what you are looking for in related sites, and within minutes… you have a list of hundreds of relevant websites, complete with their PageRank, age, and whether they are nofollow links, etc. It is one of the most time saving tools in the box!
Cost: Free (Shows a limited number of sites) or $99 (Shows Unlimited websites)
Ever wonder what people are searching for in that big ugly search box? Like I said earlier, I LOVE analytics, but prefer everything to be on my dashboard in one place.
With Search Meter, you don't have to do anything special at all… Activate the plugin and see what people are searching for in a daily, weekly, and monthly cumulative format.
Tip – As you notice the same thing showing up over and over again, you can either create new content around it, or get a bit more creative and create your own redirects based on simple and often repeated strings.
For instance, if I noticed that "n1way" was being searched for 20 times a day, I could write a pretty simple redirect that first, recognized the search (/?s=n1way) and second, redirected the search through my affiliate link, direct to the N1Way website. :-)
Cost: Free
Last but not least – one of the HARDEST things I have to tell someone is that their site is not ranking well, when they truly thought it was!
Repeat after me…
Google search is smart!
Google knows where I go on the Web!
Google knows how often I revisit the same sites!
Google knows what I search for on the Web!
Google knows the websites I Own!
Google knows Every Search Habit about me!
Google knows I often revisit some sites, so it lists them HIGHER in the rankings, but only to ME!
Now that you know the search results you see are skewed by Google personalized search, pick one of your own sites that you know ranks very well in the search engine, say top 10 results for a term you just never thought it would rank for?
Search Google, then search at the Hide My Ass site. Chances are, you will get different results. It's NOT true all the time, but nothing is worse than thinking you rank stellar, when in effect, it's personalized to you.
Cost: Free
What Do You Use?
I have several sections of this post marked for followup with full learning video posts on how to get the most from the specific section. Stay tuned for some great learning over the next few weeks…
What else do you recommend for beginner affiliates? Plugins, Tools, whatever – Share them below!
Previously Published Articles You May Like to Read:
---
Rate This Post